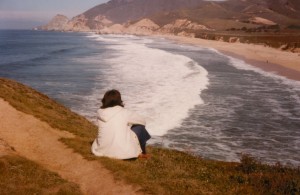 First of all, I don't take myself too seriously. Fiction writers are not a breed apart touched by a spark of divine madness that common mortals could never comprehend. They are only daydreamers who find it easier than most to turn their daydreams into words. It's called a "gift," i.e. you didn't earn it. All you can do with a gift is work hard to honor it. Many are born with the gift of writing and work hard to honor it, yet are never published. Becoming a published author has an element of sheer luck, and so is becoming a "successful" published author. But success is not mandatory; to quote Hemingway, "Writers write to save themselves." Anything beyond that is a bonus.
Second, I don't submit to the slavery of a deadline. I think only beginners should be forced to write with a clock ticking over their heads. It took me almost eight years to write two novels, in between doing housework, taking care of a husband, raising a child, working and attending college. From what I hear, my novels are good writing; the pieces I scrambled to finish in Creative Writing classes are exercises.
Last, I always leave for myself a private corner that I don't share with my readers. Some daydreams are sacred.